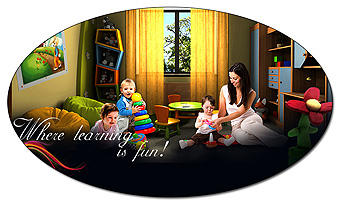 Gumdropkids Family Child Care

GumDrop Kids offers a professionally developed, age-appropriate, curriculum for ages 2 1/2 - 5. The activities and projects are designed specifically to help children develop skills in letter, shape, color and number recognition. The curriculum utilizes a variety of math, science and literacy activities, as well as creative arts, physical activities and social skills. Children will learn and grow as they enjoy poems, books, stories, games, finger-plays, and arts and crafts.
Accepting Children - 2 years and up!
Visit our site at www.gumdropkids.net to learn more!

---
Gumdropkids Family Child Care
License# 334840055i
www.gumdropkids.net
gumdropkids@gmail.com
(951) 893-1736
South Corona Eagle Glen Area
Corona, CA 92883

Katie Dempsey Family Child Care
(951) 737-1134
2575 Border Avenue
Corona, CA 92882

De La Torre Child Care
License #334817150
www.ServiceCoronaChildcare.com
(951) 808-1595
Transportation Cross St Fullerton / Upper
Corona, CA 92881

Little Feathers
License# 334840532
www.LittleFeathers.net
(951) 603-0872
22904 Zinnia circle
Corona, CA 92883

Velasquez Family Child Care
License #334816049
martha1071@Yahoo.com
(951) 340-9827
6th Street Close To 91 FWY
Corona, CA 92882

Watch Me Grow Childcare
License# 334844513
www.watchmegrowca.wixsite.com/watchmegrowca
WatchMeGrowCA@gmail.com
(951) 365-9473
Eagle Glen / South Corona
Corona, CA 92883

Adibi Family Child Care
License #334819413
(951) 278-3447
Located in South Corona
Corona, CA 92881

Celebration Christian Child Care
License # 334811368
(951) 444-9149
Historic District of Corona
Corona, CA 92882

Countryside Montessori Center
(951) 340-2821
2266 Griffin Way Map
Corona, CA 92879

Halos Childcare
License# 334843740
(951) 337-8187
Between Dos Lagos and Glen Ivy
Temescal Valley, CA 92883

Hansel Home Daycare
License #334841394
(714) 357-6555
Lincoln & Foothill Area
Corona, CA 92882

Harris Family Child-Care
(951) 279-5947
Fullerton & Foothill Pkwy
Corona, CA 92881

KidsPark
(951) 520-8900
280 Teller Street Map
Suite #170
Corona, CA 92879

KinderCare Learning Center
(951) 371-9346
1080 HighGrove Street Map
Corona, CA 92882

KinderCare Learning Center
(951) 898-5677
1655 Hidden Valley Parkway Map
Corona, CA 92879

Little Einstein Preschool
License # 334840577
(951) 847-7703
Sierra Del Oro Area
Corona, CA 92882

Marin Family Day Care
(951) 496-4318
428 Yellowstone Circle
Corona, CA 92879

Medina Family Daycare
License# 334842399
(714) 497-7527
Hidden Valley and Parkridge Area
Corona, CA 92879

Mimi's Daycare
License# 334840112
(909) 839-3071
North Corona / Eastvale Area
Corona, CA 92880

Munoz Family Day Care
License# 334801243
(951) 681-7584
Cross Streets Etiwanda and Bellegraves
Mira-Loma, CA 91752

My Sprout House
LIC #334845340
(714) 715-5014
Childcare at Dos Lagos
Corona, CA 92883

Our Favorite Place
License# 334841418
(951) 479-5177
Eastvale Area
Corona, CA 92880

PIerpont Family Child Care
License# 334850543
(951) 454-7342
Lincoln & 10th St Area
Corona, CA 92882

Ready Set Grow
License #334818895
(951) 735-4667
Eastvale Area
Corona, CA 92880

Tulip Blossoms Child Care
License # 334843376
(951) 818-1254
Temescal Valley Area
Corona, CA 92883

Vega Family Childcare
License# 334819425
(951) 279-1412
Orange Elementary / El Cerrito Area
Corona, CA 92881

Baby Steps Childcare
License# 334817980
(909) 923-8606
Eastvale Area
Eastvale, CA 92880