MyCorona Premier Listing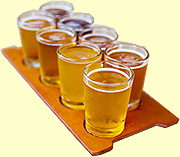 This Premier Advertising Spot is Available for
Breweries & Pubs
in the Corona California area.
Potential customers visiting this page searched for ale, bar, beer, mugs, brew, breweries, brewering, brewery, cider, dark, draft, fest, German, hops, ipa, Ireland, lager, light, micro, pilsner, porter, pub, stout, summer, flight, taste, and tasting in the Corona, CA area.
To learn how your company can enjoy this top
Advertising Position click here!
Please See Below for General Directory
of Breweries & Pubs
---
Directory
Sons of Liberty Aleworks
www.solaleworks.com
grw@solaleworks.com
(951) 278-1760
1780 Town and Country Drive Map
Unit 101
Norco, CA 92860

BJs Restaurant and Brewhouse
(951) 271-3610
Local Online Guide
2520 Tuscany Street Map
Corona, CA 92881

Rock & Brews
3550 Grand Oaks Map
Corona, CA 92881

Skyland Ale Works
(951) 817-3037
1869 Pomona Road Map
Suite E & F
Corona, CA 92880

Stone Church Brewing
(951) 433-0121
Local Online Guide
2785 Cabot Drive Map
Suite 160
Corona, CA 92883

TAPS Fish House and Brewerys
(951) 277-5800
Local Online Guide
2745 Lakeshore Drive Map
Corona, CA 92883

---