MyCorona Premier Listing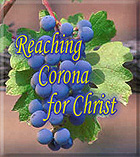 Olive Branch Community Church
•Know God •Grow in God •Glorify God
Changing Everyday People into a Community of Passionate Christ-Followers

Olive Branch Community Church has the feel of the small town church with a big message. Olive Branch Church helps you to get back to basics in a crazy fast moving society. Whether you are a seasoned Christian or just looking for answers Olive Branch will help you find peace in the Lord and Jesus Christ. The youth program is incredible as it had my kids asking
"Can we go back to Olive Branch next week".
See You This Sunday!
Olive Branch Community Church
(951) 279-4477
7702 El Cerrito Road Map
Corona, CA 92881
www.Olive-Branch.org
---
Olive Branch Community Church
www.Olive-Branch.org
(951) 279-4477
7702 El Cerrito Road Map
Corona, CA 92881

Crossroads Church
(951) 737-4664
2331 Kellogg Avenue Map
Corona, CA 92881

South Hills Community Church
(951) 734-4141
2585 South Main Street Map
Corona, CA 92882