MyCorona Premier Listing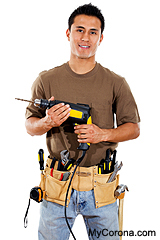 This Premier Advertising Spot is Available for
Contractors and Construction Services
in the Corona California area.
Potential customers visiting this page searched for services, roofing, garage doors, remodel, construction, contractors in the Corona, CA area.

To learn how your company can enjoy this top listing Position click here!
Please See Below for General Directory of
Contractors and Construction Services
---
Cleanco Pressure Wash Company
Residential and Commercial
www.cleanco.us
cleanco_us@yahoo.com
800-514-1948
Corona, CA 92882

Big Dog Fencing
(909) 496-2199
Corona, CA 92882

Boss Construccion Inc.
(951) 354-1306
11810 Pierce Street
Riverside, CA 92505

Hester Roofing
(951) 805-4705
Corona, CA 92883

Inlands Best Home Inspections
(951) 858-0396
Corona, CA 92880

Integrated Paver Systems
(951) 833-7563
13150 Lone Stallion Lane Map
Corona, CA 92883

Larry's Concrete Pumping Inc
(951) 737-6439
Corona, CA 92880

MD Construction Services Inc
(714) 328-4778
22540 Canyon Lake Dr. South
Canyon-Lake, CA 92587

TFA Field Calibration
(951) 270-2935
1151 Pomona Road Map
Suite C
Corona, CA 92882

ADD YOUR COMPANY FOR FREE
Click here for your free listing
in our general listing directory.

Click here to learn more about becoming
one of MyCorona's "Premier Listings"
and start your company on the way
to enjoying increased sales and
traffic by utilizing this highly
effective marketing tool.
Restaurants| Shopping| Entertainment| Services
Home | Search | Advertising Opportunities | Web Design | Contact MyCorona | About US | Site Map | Help