MyCorona Premier Listing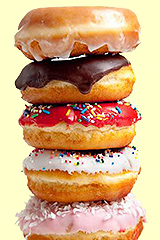 Donuts and Pastries
in Corona California.
Potential customers visiting this page searched for donuts, pastries, croissants, restaurants, dozen, beignets, fritters, cream, puffs, chocolate in the Corona, CA area.
This Top of Page Position Is Available!
See your Business in this spot!
To learn about this top position advertising opportunity click here!
Please See Below for General Directory
of Donuts and Pastries
---
Directory
Baker's Dozen Donuts
Deli & Delights
(951) 736-7571
325 S Main Street Map
Suite A
Corona, CA 92882

Donut Star
(951) 735-9854
131 North McKinley Street Map
Suite 101
Corona, CA 92879

Kyndy's Donut Cafe
(951) 638-5828
Local Online Guide
2780 Cabot Drive Map
Suite 140
Corona, CA 92883

Southern Maid Donuts
(951) 356-5676
1525 East Ontario Avenue Map
Suite 105
Corona, CA 92881

---