MyCorona Premier Listing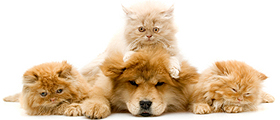 We consider ourselves partners with the whole family, humans and animals.
We are committed to treating all of our patients and clients with respect and compassion, upholding the highest standards of retaining medical care and service to the community.
Animal Medical Center of Corona, Inc. has proudly served Southern California's furry, scaly, and feathered friends since September 2005. Here we believe in modern medicine with old fashioned care. We are one of the only animal hospitals in the Inland Empire with a special interest in working with avian and exotic animals.
Our hospital consists of two doctors and fourteen employees. Each and every one of us is committed to giving your pet the highest quality care and love we would give our own pets.
Contact us Today!
---
Directory
Animal Medical Center of Corona
www.amccorona.com
customer.contact@amccorona.com
(951) 493-6771
91 E Grand Blvd Map
Suite 102
Corona, CA 92879

Animal Hospital of Eagle Glen
(951) 340-9200
Local Online Guide
2279 Eagle Glen Parkway Map
Suite 108
Corona, CA 92883

Centennial Animal Hospital
(951) 371-7383
1935 Compton Avenue Map
Corona, Ca 92881

Corona Animal Hospital
(951) 735-1642
1565 Yorba Street Map
Corona, CA 92882

South Corona Pet Hospital
(951) 898-3647
1551 E Ontario Avenue Map
Suite 101
Corona, CA 92882

ADD YOUR COMPANY FOR FREE
Click here for your free listing
in our general listing directory.

Click here to learn more about becoming
one of MyCorona's "Premier Listings"
and start your company on the way
to enjoying increased sales and
traffic by utilizing this highly
effective marketing tool.
Restaurants| Shopping| Entertainment| Services
Home | Search | Advertising Opportunities | Web Design | Contact MyCorona | About US | Site Map | Help